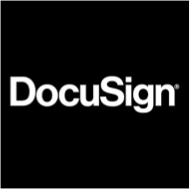 Signed. Paid. Complete.
DocuSign is the industry leader in electronic signatures. Thousands of businesses accelerate the agreement process and digitize their workflows with DocuSign.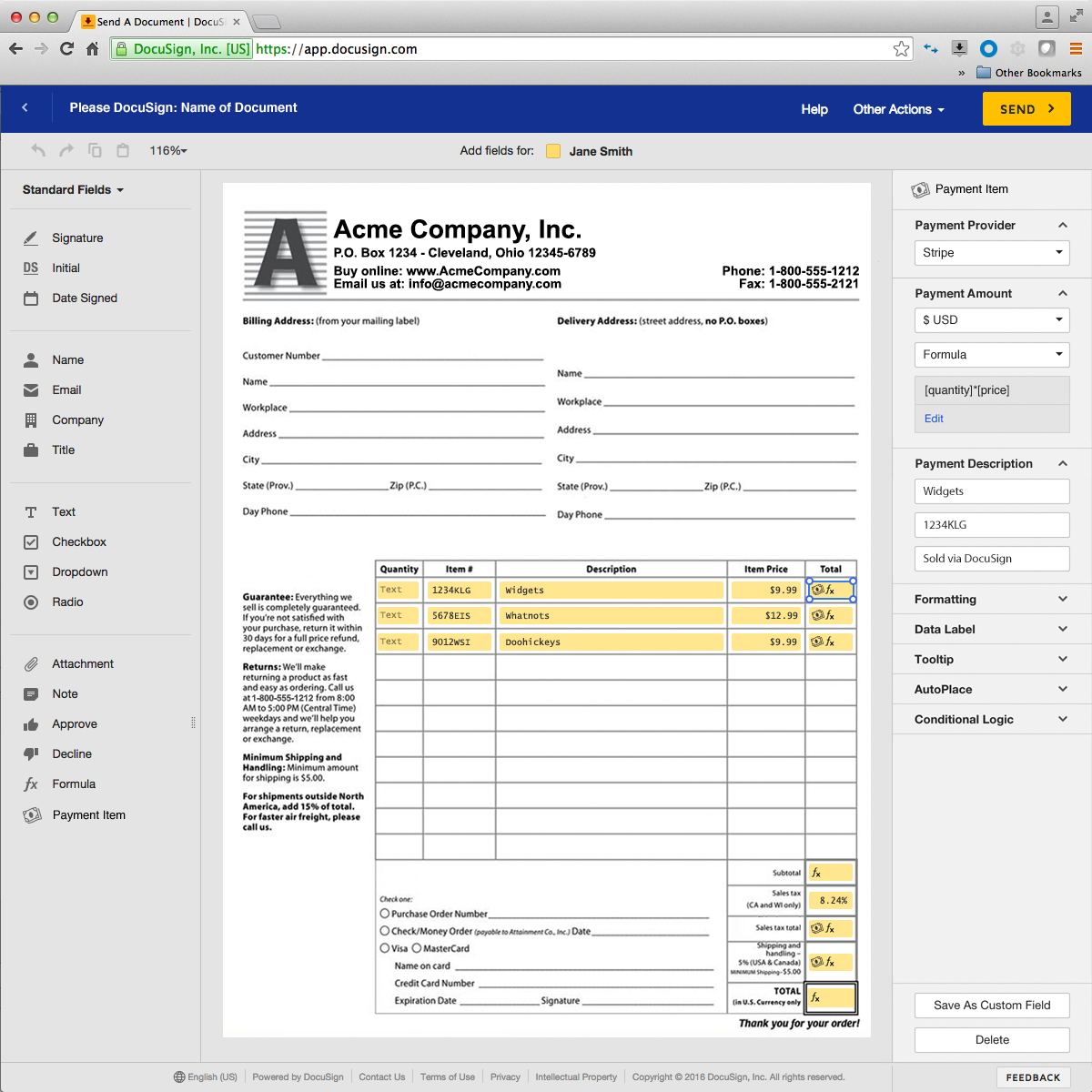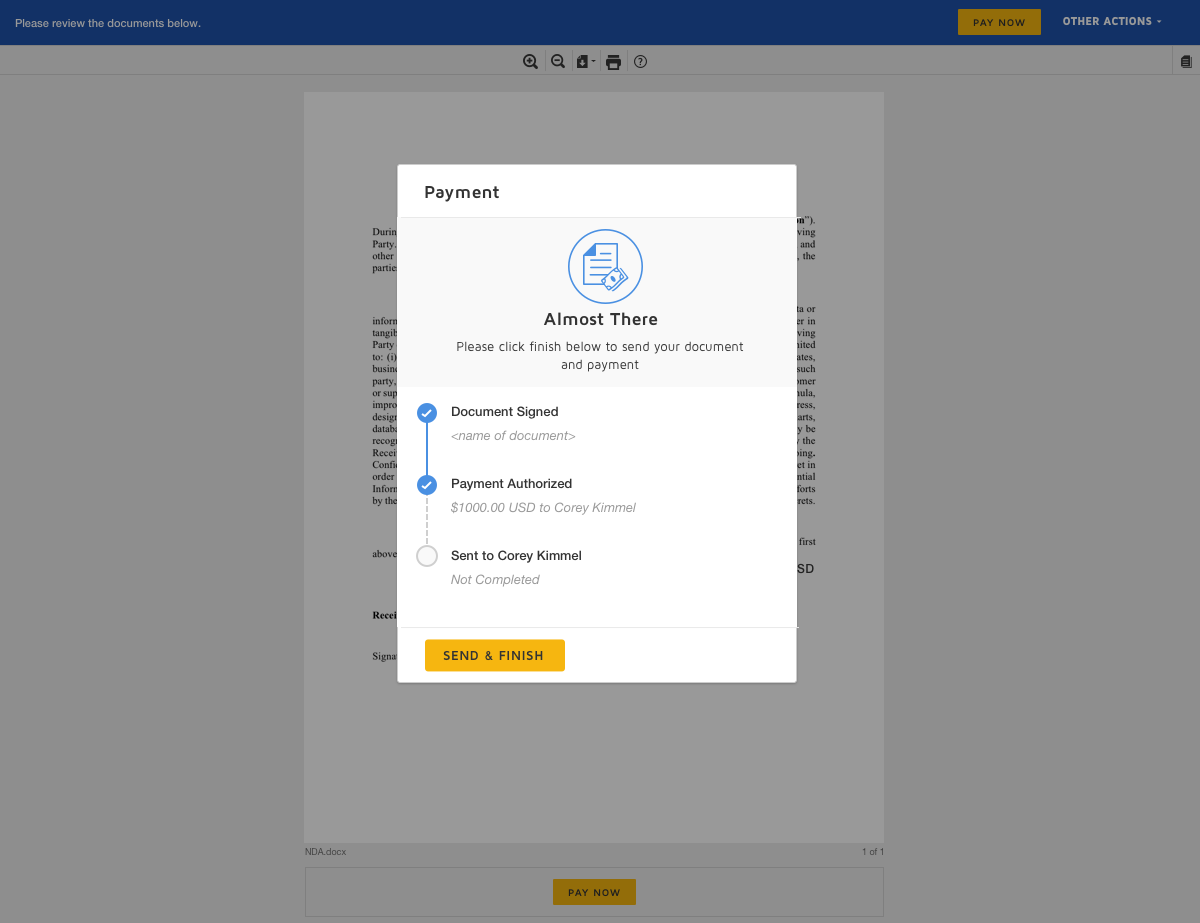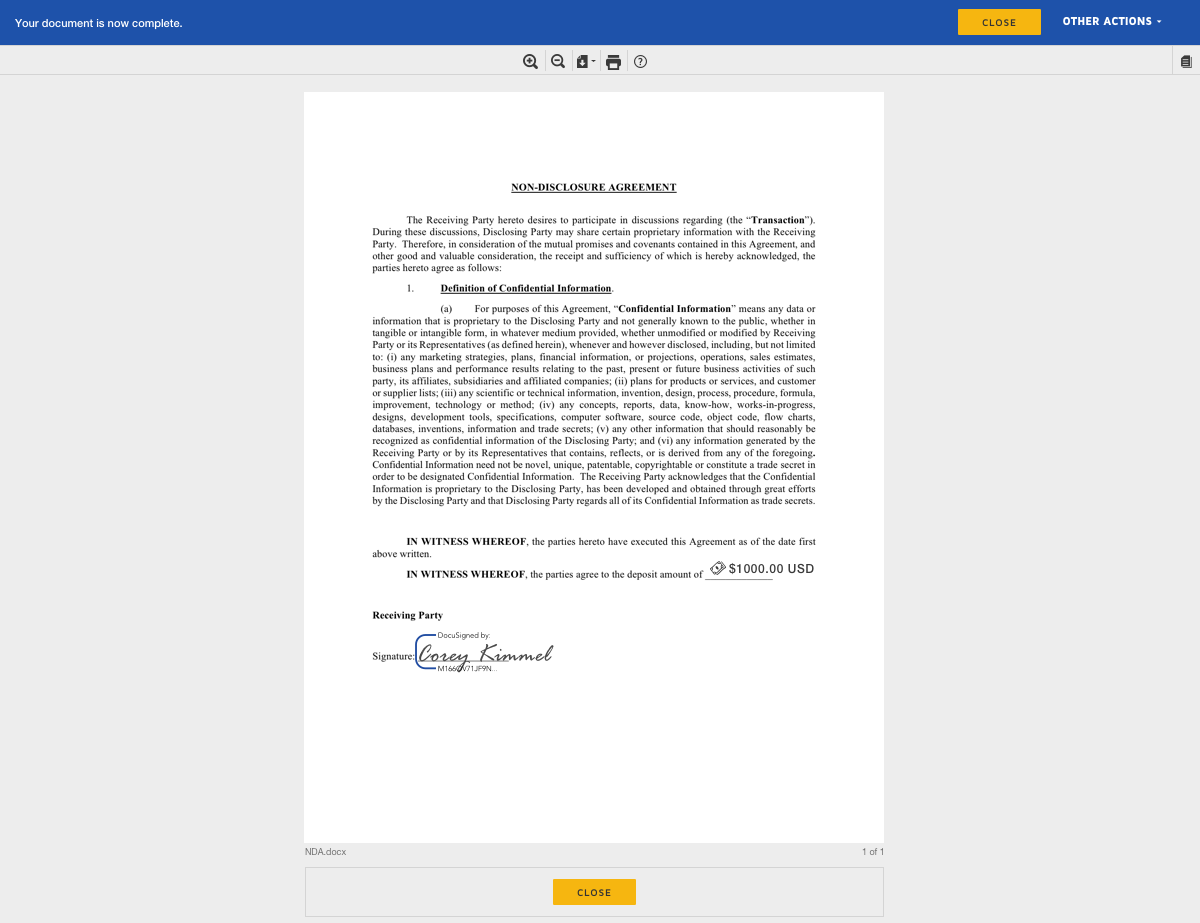 How does DocuSign work with Stripe?
DocuSign Payments utilizes Stripe to allow DocuSign customers to request and accept payments inside of a DocuSign agreement. Get paid instantly, deliver a superior customer experience, and collect payments and signatures in just one step!
Category
Electronic signature
Industries
Travel & tourism
Professional Services
Non-profit
Local services
Education
Food & beverage
Arts & culture
Ticketing & events
Supported in
United States

Canada

United Kingdom

Australia
Simplify your agreements
It's easy to connect Stripe to your DocuSign account—and easy to request payments once you've added it. Customers pay immediately when they sign.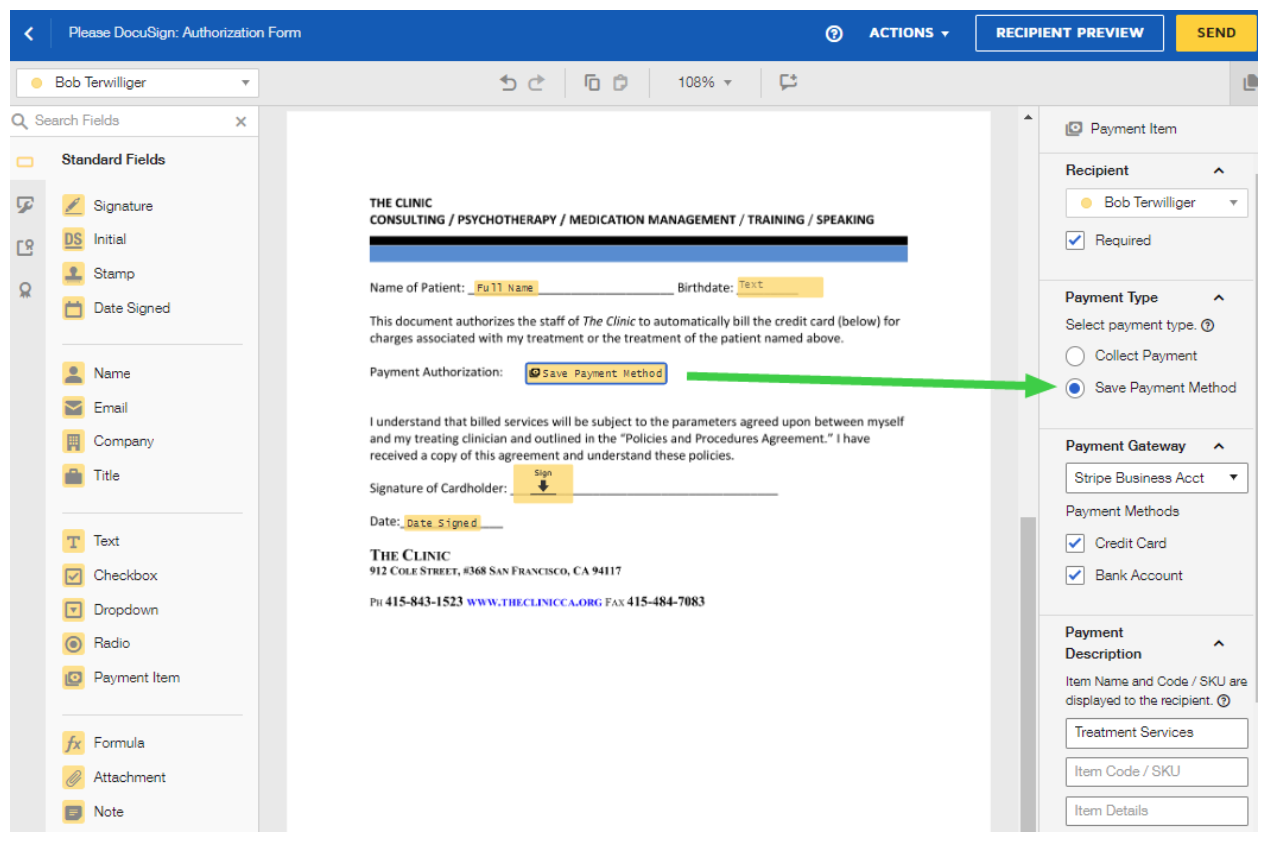 Accelerate your sales cycle
Get paid instantly and avoid delays in collecting money owed. You can track which agreements have been paid and integrate payments into your workflows.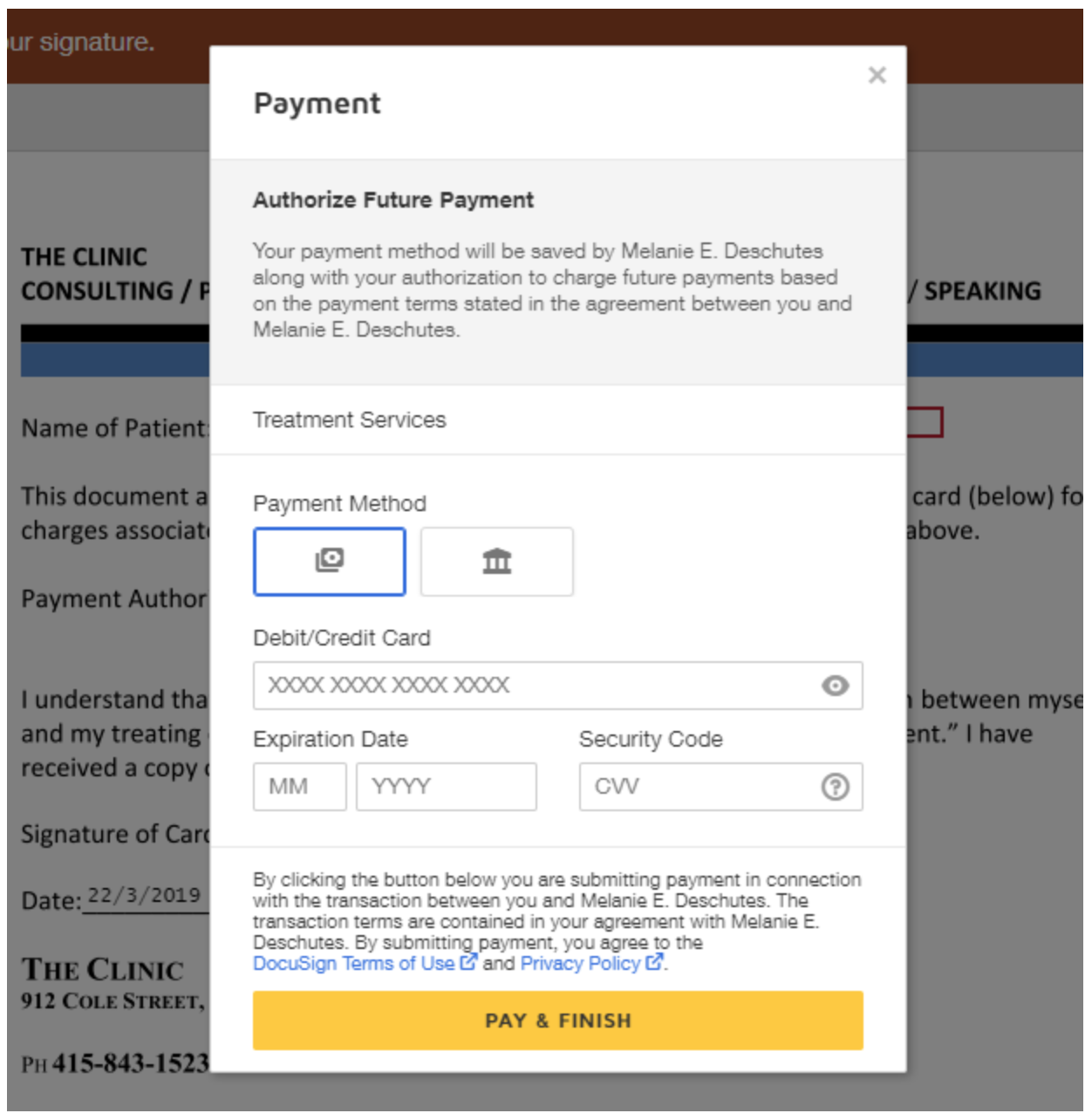 Deliver delightful customer experiences
Deliver a superior customer experience with the ability to sign and pay anytime, anywhere, on any device.
I was looking for a system where we could customize contracts, have it brandable, have the template ready to go, and then also be able to take payments as soon as the consumer was ready to transact with us. And we found that.

We could easily spend an entire working day per week collecting signatures and payments for our agreements. However, with DocuSign Payments, that all changes. After the simple plug-and-play process to set up Stripe, the accuracy and timing of our payments are guaranteed, and we don't have to wait on checks anymore. It doesn't change how we operate, but it totally accelerates our business, and makes us nimble, efficient, fast and compliant.

Our previous system meant that foster families needed to confirm that we had received their payments, and that was separate to the contracts they signed. During the period of testing DocuSign Payments over the past couple of months, we can see how easy it will be to hit the ground running and potentially remove that step – saving considerable time given we process over 1,000 adoptions a year.
Expert help when you need it, 24x7
Our teams across nine locations and all timezones are here to support you. Get responses fast with free 24x7 email, phone, and chat support—included with every Stripe account. You can also choose to get dedicated support management, prioritized responses, and other professional services.
Only pay for what you use
No setup, monthly, or hidden fees. Real-time fee reporting. 2.9% + 30c per successful card charge. Fast, predictable transfers: Once you're set up, transfers arrive in your bank account on a 2-day rolling basis.